First time trial? Why not give it a go?
What is the worst that could happen? The usual excuses thrown at me don't hold water here. You won't hold anyone up, or cause anyone else to crash or get tailed off. It is a test purely of yourself against the clock – known as 'The Race of Truth'.
Why do them? They have lots of benefits. They are a great way of measuring your progress with fitness, they provide very good focused training opportunities and they are excellent as sessions to think about your technique. Most people think you just get on and ride a bike, done it from childhood, simple. It really isn't quite that simple. I rode faster than someone the other day who is stronger
than me and should be faster. Better technique, position and pedalling efficiency brought me in several minutes in front.
'So what?' you may say if you are not competitive. But more efficiency means more miles for less effort and less risk of
injury. So whatever you fancy doing, it is a benefit. Touring or tea shop visiting are two worthy examples I can think of.
Why not do them? They do tend to be hard work! ….. and a bit of a dark art. I can demystify the dark art but you have to do the work!
There are two places which make ideal starter routes locally. Both are run regularly so you can see improvements. One is 'The Milnthorpe 10' which goes from Milnthorpe to just before the Pine Lake roundabout and back, on the A6. This is organised by Kent Valley Road Club. The dates are on their website but this route is run regularly throughout the season from April to the end of August
on a Wednesday.
There is one on a Thursday from April to the autumn at Salt Ayre Circuit in Lancaster. This is a 0.8 loop of tarmac with no traffic and you ride it 12.5 times non stop. The hardest part is counting your laps but if you get it wrong you won't be alone.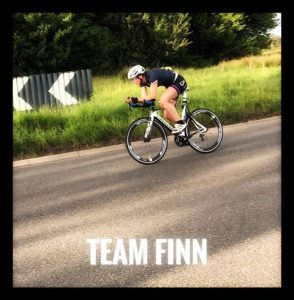 So you've decided to do one, chosen it and now you need to enter. For the Milnthorpe 10 you phone Giant store, 01539 728057, after 12 noon the day of the time trial and put your name down, first start time 7pm. After that people are set off at one minute intervals.
Next turn up – what do you need to take? You will see all kinds of funny kit at some time trials but to start with a bike, helmet and working back light are good. Money for the entry fee, £3. And possibly a tool kit unless you want to walk home if you puncture.
When you get there you have to sign on – for Milnthorpe this is in the car park after the lights, going towards Carnforth, opposite the Spar. Sign on is normally the back of a van. Take £3 and sign your life away …… In exchange for this Tony Dixon, who is normally sign on man, will give you a number with four safety pins – and if you are really lucky, a smile. 🙂 The number is the number of minutes past the hour that is your start time. If you are 18 you are going at 7.18.
The number needs to go on your back, low down so that when you are bent over on your bike it is easy to see. If it is too high recorders can't read it. It can also make it easier to read if it is slightly to the left of centre. If you receive the number 13 put it on upside down so that the bad luck drains out. Honest. Even if you do have your number on correctly please also shout your number as you
come over the line – if you have enough breath. This makes the time keeper's job just that bit easier.
After this, it pays to do a warm up. Go and ride for 20 minutes at a variety of paces, raising your heart rate, encouraging your nerves to fire properly and your muscles to wake up. For Milnthorpe do this by going from the car park to the main traffic lights, turning left then turning right just before the bridge over the river. This will bring you to 'the flats' where you may well find others doing the same thing. Or bring a turbo trainer and a spare wheel and warm up in the car park. You are asked not to warm up on the course as it creates confusion. Make sure you are back about five minutes before your start time. Too early and your warm up will lose its efficiency. Too late and you will be in the doghouse and may not get a ride. Considering the sport revolves around precise timings, and improvements of seconds are greeted with great glee, being late is a bit of a faux pau. I have managed to persuade officials to alter my start time before but it is not a popular move – be warned.
[perfectpullquote align="full" bordertop="false" cite="" link="" color="" class="" size=""]But remember the sods law of cycling that the wind will always be a head wind when you are tired and just accept it![/perfectpullquote]
Make sure you are in a gear suitable to use from a standing start. Its a common error to have incorrect gearing at the start. It is better to have an easier gear than one which is too hard. A hard one uses more energy – and you'll need that. The start is out of the car park and turn right, about 50 yards away. Normally there is a small huddle of three people. There must be two – one to record your start time, the other to hold you up. This is a bit weird. They will call you forward after the person in front has gone. Its worth getting there a little early to see how the start is done. Go up to the start point and, with about 30 seconds to go, you get on your bike and someone holds the seat post, or saddle, and top tube so you are held upright and can put your feet on the pedals or clip in if you have cleats. This means you are ready to start as soon as they say so. You will get a count down and the clock is in the grass in front of you so you can see the countdown. Tell the starters that its your first time and they will then know to reassure you! If you don't feel comfortable just ask them not to hold you and that's fine. Then just pedal! Try not to start too fast and flood your body with lactate within the first half mile. Get into a rhythm you can sustain for about half an hour. Get down on your drops. If you don't normally ride on them it may pay to practice a bit first. This will make you more aerodynamic. As you come up to the turn point there will be a marshal waving. The turn involves being in the fast lane of the dual carriageway then doing a right handed u turn. You have to give way to traffic, but there usually isn't any. The turn point also means you are half way. and that you expect that head wind to become a tail wind. But remember the sods law of cycling that the wind will always be a head wind when you are tired and just accept it!
Then pedal back to the finish – simple! Volunteers will record your time and that's it. You have done your first time trial. Congratulations.
Remember to give your number back at the van and sign off. This means re-signing the sign-on sheet to let people know you finished safely. Then go for an easy ride for 20 minutes or so to spin your legs out and help them remove some of the waste produced by your efforts. Sometimes you can see the results on the night, but they are swiftly published
on facebook and web pages.
Good luck, enjoy!