Every year the club hosts an awards and presentation social. Ordinarily we have some set awards such as Club Champions, Triathlete's T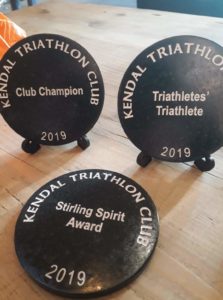 riathlete & Most Improved. Other ad-hoc awards have included Stabiliser Award (falling off the most) and Golden Flipper (most swimming). Below is a brief description of the core awards and a table of previous winners.
Club Champion
Each year the club will nominate a local race. The highest placed Male  Female in the race are awarded the Club Champion
Best Newcomer
As a newcomer to the club or triathlon the most notable achievement will be recognised with this award. This award is voted for by the committee and isn't necessarily a results based award.
Most Improved
Again, voted for by the committee this award goes to the athlete showing the greatest improvement across the season. 
Triathlete's Triathlete
Voted for by other club members the award goes to the standout member for the season, this can be from results or exceptional performances to helping & inspiring others.
Race Achievement
The award presented for an exceptional performance or result throughout the season
Stirling Spirit Award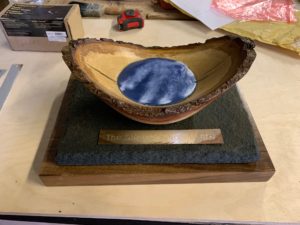 A new award for 2019/20 in memory of Chris Stirling, a club member sadly no longer with us. The award is designed to hopefully capture Chris' sense of adventure, made from locally sourced & sustainable materials we hope it represents the environment & terrain he liked to race.
The award is presented to a club member who has had a special achievement or made a notable contribution to the club. Not specifically race or result driven it is hoped we can award this for inspirational, coaching or dedication achievements too.
| | Stirling Spirit Award | Triathletes Triathlete | Male Club Champion | Female Club Champion | Race Acheivement | Best Newcomer | Most Improved |
| --- | --- | --- | --- | --- | --- | --- | --- |
| 2020 | Kerry Byrne | n/a | n/a | n/a | n/a | Stephen Elliott | Vikki McGarry |
| 2019 | Angela White | n/a | Ben Hodgson | Corrina Skelton | Ben Hodgson | Simon Butterworth | Pete Robinson |
| | | | | | | | |
| | | | | | | | |