~by Nat Pawlowski
'Struggle Dales' is 108miles with over 10'500ft of climbing, add in the heat (mid 20s) and the wind (a gusty 30+ south easterly) and it's name 'Struggle' was certainly warranted.
The event start used part of the Army Foundation College just outside Harrogate; friendly, well organised, and simple to navigate. It's a gentle start through Killinghall and on to the Pateley Bridge road and then the first named climb comes at 5miles, Bedlam. At only 10% and about 1/2 a mile Bedlam is a mere inconvenience compared to what lies ahead. At 10miles in you leave the main road in Summerbridge to climb Hartwith Bank, this is more like what is to come; tight, twisty and the main series of bends break the 20% mark. Fast sweeping descents take you to Pateley Bridge where the first serious climb begins, Greenhow. This one is 2.5miles, again breaking 20% and climbs out of Nidderdale on to stunning moorland. An exhilarating descent into Wharfedale brings you to Grassington, then pretty lanes weave their way (via a very well stocked and well staffed feed station) round to Malham. The beautiful view of Malham cove helps to distract from another 2mile 20% climb; before exploring the quiet roads over Malham moor and another speedy descent brings you back into Wharfedale. There's another feed station in Kettlewell before leaving Wharfedale via Park Rash, even the pros in 'Tour de Yorkshire' made this one look hard. It's only 1.5miles but its brutal, you can see the famous 25% zig-zags for a long time on the approach…and the 20% ramp that links them! A long, undulating, tour round Middleham and Masham takes you to the final feed stop. A gradual 7mile climb takes you to Trapping Hill where the gradient gets back into the mid teens for the final 1/2 mile. Descending back into Nidderdale starts fast but there's a pair of really tight corners low down at the steepest point; this had been highlighted in the briefing and the terrified looking marshall frantically waving a giant red
fl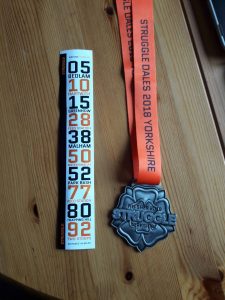 ag was a sufficient warning. At 92 miles in and feeling pretty broken you return to Pateley Bridge for the final major test, Two Stoops (also known as Nought Bank). Another 1.5miler breaking 20% at times was beyond me… After much pain, suffering, and (ashamedly) a little walking I reached the final summit. A stunning descent off the moorland returns you to Nidderdale and an undulating 10mile spin takes you back to the event base.
The route, the people, the food / drink stations, and the beer & burger tent at the finish were all superb; as is the bling.
One to return to…who else fancies it next year?