Cast your minds back to Summer 2017, picture the scene I'm sat at my desk in the office casually chatting to a colleague on plans for 2018 when he lets slip how wonderful Chester Deva Standard was that year and that he has designs on entering the Middle. Well my competitive streak and lack of willpower need no coercing into joining him. Loads of time to train, I think to myself, yep sign me up i'm in 100%!
Summer comes and goes as does Autumn and even most of Winter, now I must point out that whilst I hadn't exactly started any training plan I was ticking over nicely and during this period also moved house, renovated a house, moved house again, gotten married, had a honeymoon and Christmas also descended.
Round rolls January and I say to myself a solid 5 months to get this done ready for June 3rd. Well Feb passed as did March & April and by the time May landed I'd resigned to just going and enjoying myself and what would be would be.
June 1st arrives and I set off to Chester with the wife to do some shopping and settle into digs. A horrific nights sleep courtesy of some very loud Argentinians and a very wet Saturday morning arrived. Bleery eyed and not too keen a little ponder round Chester for some breakfast and a return to digs to get some rest. Registration later that day and a nice meal out before hitting the hay for a 5am start. Another terrible nights sleep with the impending 5am alarm have I/haven't I missed it dance saw me about 30seconds away from not even bothering with the race.
Meet up with mates albeit a bit late before heading to transition – so far so good. Set transition up – check, put timing chip on – che…. where's my timing chip? Upturn bag, no timing chip. Hot foot it back to digs – wife sound a sleep and i've no key – bugger. Hot foot it once more back to registration where the wonderful team sorted me out with a spare chip – phew!! Back to transition finish setup, put chip on, put wetsuit on and head for briefing. I'd made the start line!!
A quick briefing including all the usual information and a genuine piece of solid gold at the end – "Don't be shit!" The race start was now looming so I go to pull up wetsuit and get zipped in only to find my original timing chip in my tri suit pocket – aaarrrrggghhh FFS!! You complete donut!! This was the conclusion to a very fraught morning, being ill prepared, rushing and not eating.
After the events of the preceding months I had no aspirations for the race but had set some goals – I wanted to be out of T1 in under an hour, average 16-18mph on the bike and hopefully hit a 2 hour run to finish in 6:00 – 6:30
Steady away as the swim sets off, pairs jumping into the murky depths of the Dee about 5 seconds apart. Downstream to start fro 250m an all going well, a quick u-turn before tackling the long drag against the current. This is a first for me having done sea, lake and pond swims before so not really used to the current of the river changing my course at will. A few well diverted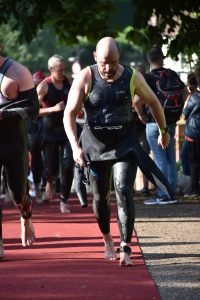 strokes help miss some jetties and overhanging trees and I feel comfortable and in a rhythm untill……….I manage to take on board a lung full of water which completely halts me as I a) do my best not to puke into the approaching swim pack and b) try to grab my breath back. I manage to set off again but feeling somewhat discombobulated as I fight my way against the current again. Stroke, Stroke, Sight, Breathe as I pick off buoy after bouy – finally the end is in sight, or not as the swim actually heads around the bend and more buoys appear. Stroke, Stroke, Sight, Breathe as I head what seems to be further and further away from the finish – finally the turn point is in sight with a yellow and red buoy next to each other. I start my turn to see yet more buoys upstream clumped together – bugger!! Off I set again, finally reaching the turn section and a quick dash downstream again before clambering out of the river like the monster from the black lagoon!! A quick look at the watch reveals a 40min swim – well inside the goal for leg 1. A quick run up the steps into the park, locate my bike, de-suit and off we go on leg 2.
The bike leg is 2 lapper with a short detour around the beautiful sights of Wrexham Industrial Estate on lap 1. A fast course with not too many climbs, but it is a far cry from any cycling I have done of late. With my goals in mind I settle into a steady pace pushing along nicely on the fast sections but reserving enough for later down the line. It's a belting hot day so fuelling would be especially crucial, I have a mental note to take on fluid and eat some little jelly block things every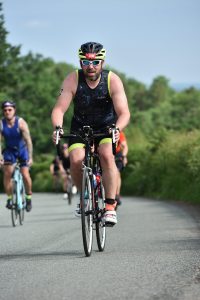 20-30 mins. All is going well as I complete lap 1 and ride through the bottle exchange swapping out my bottles for the second, shorter, lap. I managed to only grab 2 waters instead of anything electrolytey which would prove a downfall as the day progressed. Chipping off the second lap 5 miles at a time my legs became heavy and cumbersome with literally every muscle screaming and on the verge of pinging it had now become a test of endurance and preservation to ensure I could even walk off the bike. As the monotony of one section bore down on me my mind wandered and I'm not even sure if I had a momentary sleep, all I remember was 'coming to' as my pedal clanged on the kerb top and my wheels spat up dust and chipping from the kerb edge – one wrong move and I'd be down for sure. I managed to avoid disaster but my concentration had gone, my heart rate was up and I just had to focus on getting to the end. As ever in these events many words of encouragement were shouted as the hordes passed me my only resolve being many of them were fresh legged and Standard distance athletes. As I approached the nasty little climb towards the end of lap 2 I knew the bike leg was almost over, another quick glance at the watch and I'd averaged 17.1mph – I was delighted!!
Just a half marathon to run now! It was now 11am and if my hopeful 2hr run came to fruition I'd be running throughout the hottest part of the day. I set off slowly just trying to get my legs back from the bike but the sun is beating down and it is soon very apparent that it is going to be a very long afternoon. Lap 1 of 3 seemed like it was never going to end, adopting a run/walk approach my legs still heavy and sore from the bike with muscles still on the verge of going pop I take it easy and relent to the fact this is going to be hard hard work. As I cross the bridge at the end of lap 1 I see the smiling and cheering face of my Wife which lifts my mood no end, my legs now so sore I'm on the verge of tears. "Just 7km to go then its the last lap" is all I could tell myself to try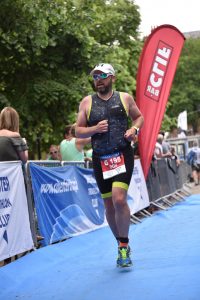 and trick my head into making my legs work. Another very long 7km run/walk with the sun still beating down, trying to get as much water on board as possible but as was everyone else this became increasingly difficult. The 2 hour run was no nothing but a distant memory, I'd be lucky to finish at all. I slowly picked my way around the course looking for every inch of shade but there simply wasn't much to be had. As I rounded the corner for the bridge a second time my wife still cheering me on I was now only 7km from the finish. Familiar faces I'd seen on Lap 1 were well and truly finished and basking in what was now for them a glorious sunny afternoon, for me 7 more torrid kilometres loomed. Water was now scarce to drink and you had to scavenge for half empty bottles to tip over your head but the end was in sight. I ended up walking quite a bit of Lap 3 and chatting to a fellow struggler – we shared tales of exploits good and bad and what the race had been like for us and what events we had planned. With 2km left to go I set off determined to run to the finish, not fast but it was running and after the extended period of respite walking and chatting I now felt better than I had done all run. Crossing the bridge for the final time the finish tunnel seemed to take forever to arrive but there it was, one final beep of the timing system as I crossed the line collecting my medal and souvenir Deva towel.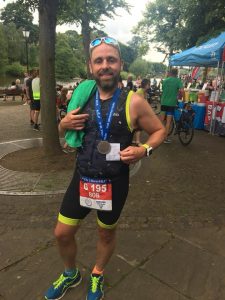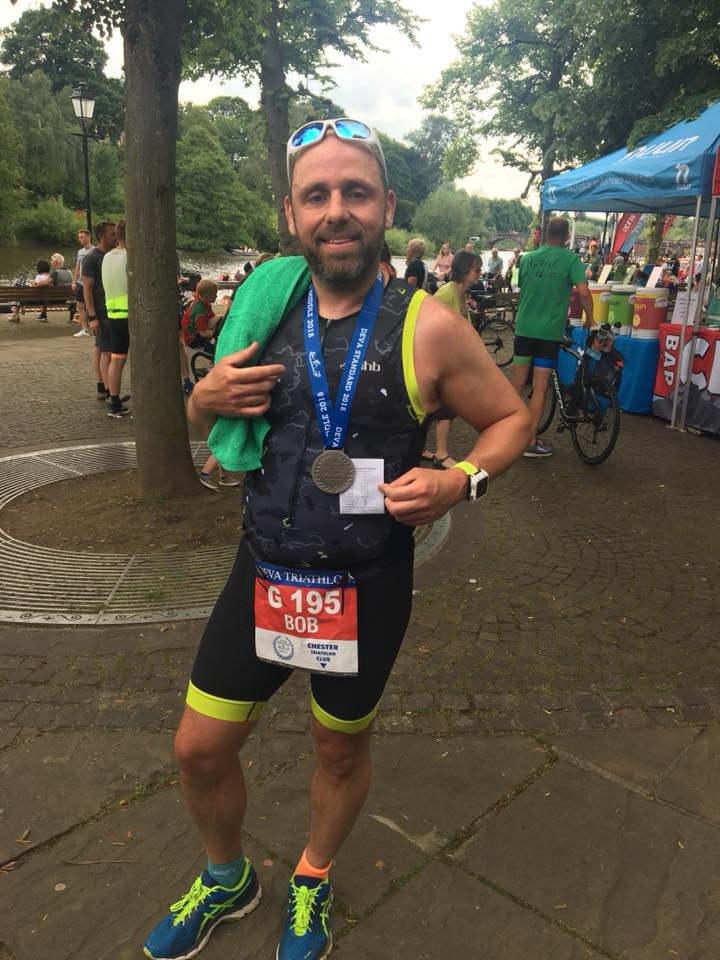 A run time of 2:32 and a total race time of 6:33 I was only just outside my target but on a day of relentless heat, a frantic morning and little to no race preparation  I was relieved to have finished and pushed myself through the distance.